Welcome to the Gurdwara Sahib Luton.
The Guru Nanak Gurdwara Luton provides sikh religious teaching and practice for all members of the community and provides voluntary social services for the elderly, youth and other groups in the community.
Please feel free to explore our site and visit us at any time.
Current and Upcoming Events: —-
 Guru Pyari Sadh Sangat Ji,
Waheguru Ji Ka Khalsa Sri Waheguru Ji Ki Fateh
Dear Sadh Sangat Ji,
 The Annual General Meeting at Guru Nanak Gurdwara, Luton will be held on Sunday29th April 2018 at 2.00pm
Agenda   for the meeting is as follows;
·       Selection of chairman
·       President's  Report
·       Gen.Secretary's Report
·       Treasurer's  Report
·       Auditor's Report
·       Trustees's  Report
·       Selection of Panel
·       Any other business
** Please Note that Nobody will be allowed to speak without Permission of the Chairman
The executive managing committee humbly request all the membership to attend the meeting and also take this opportunity to thank all the sadh sangat for their continued support.
VAISAKHI PROGRAMME
Arambh Sri Akhand Path on Thursday, 12th April 2017 at 10.30am
Bhog Sri Akhand Path on Saturday, 14th April 2017 at 10.30am
Again it is requested that all Sadh Sangat Ji benevolently attend.
Best Wishes & Kind regards
GNGL Committee
Sikh Nanakshahi Calendar (based on the 2006 calendar)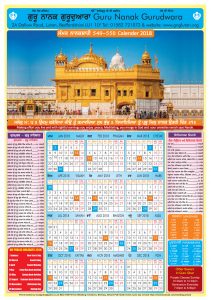 The NEW calander can be obtained from GNG Luton.
Our calandar
Category Key
Akhand path
Day Care Centre
General
Sukhmani sahib Path
wedding